By Elizabeth O'Brien
Image: iStock-659112420
Sept. 14, 2023
Medicare's first round of drug price negotiations has begun, and while that should be a boon to enrollees, you will have to wait a couple of years to reap the benefits. In the meantime, there are other important changes to medication costs on the way—and steps to take right now to lower the amount you're spending on prescription drugs.
---
Last month, the U.S. Department of Health and Human Services announced the first 10 drugs selected for price negotiation under the Inflation Reduction Act of 2022. The law gave Medicare the power to negotiate drug prices directly with pharmaceutical companies for the first time. Previously, the federal government was prohibited from leveraging its bargaining power to lower prices for beneficiaries.
"This is just a huge, historic change," says Leigh Purvis, prescription drug policy principal in the AARP Public Policy Institute. 
The 10 drugs in the first round were among those that Medicare Part D spends the most money on and include treatments for diabetes, heart failure, and blood cancer. In 2022, 9 million Medicare Part D enrollees took the 10 drugs and paid a total of $3.4 billion in out-of—pocket costs on them, according to the Department of Health and Human Services. 
New, negotiated prices for the first 10 drugs are set to take effect in 2026. Other medications are expected to follow: the Centers for Medicare and Medicaid Services will select up to 15 additional Part D drugs for negotiation in 2027, up to 15 more drugs for 2028 (including drugs covered under Parts B and D), and up to 20 more drugs for each year after that. The pharmaceutical industry has mounted a legal challenge to the plan.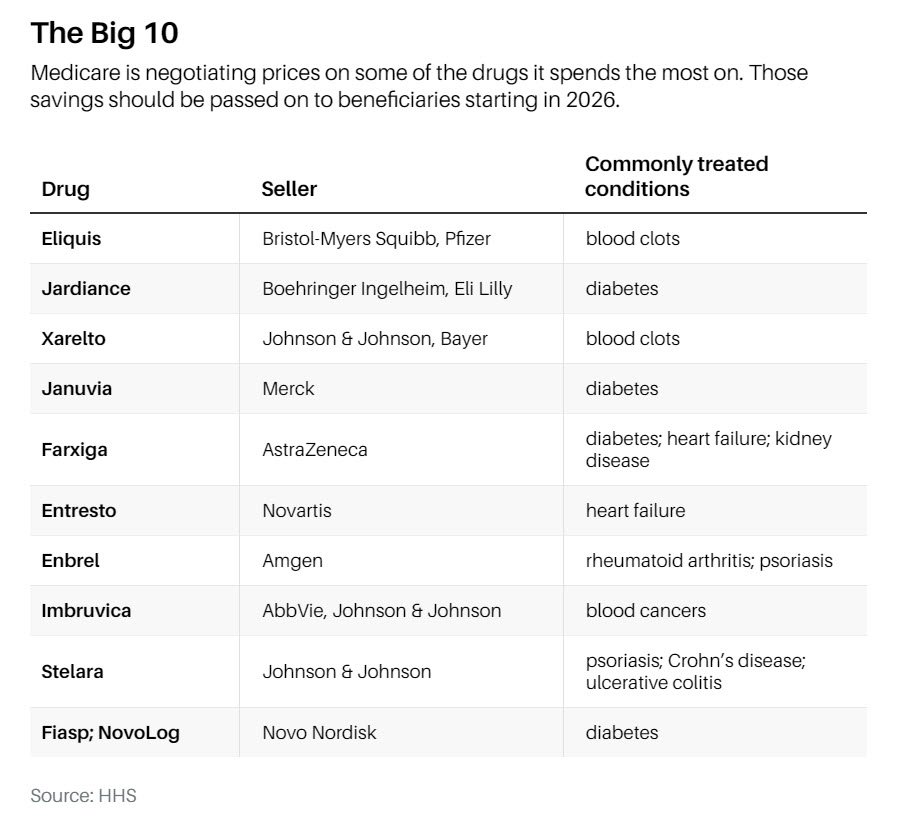 All Medicare recipients stand to benefit from reduced prices on these drugs, Purvis says. That's because Part D premiums reflect total costs borne by the plans, and to the extent that negotiations lower those costs, savings will trickle down to enrollees in the form of lower premiums, she says.                                 
Price negotiations are one of several provisions in the Inflation Reduction Act designed to lower prescription drug costs for Medicare patients. Monthly out-of-pocket costs for insulin were capped at $35 this year. Starting next year, those with high drug spending will catch a break when their responsibility in the catastrophic coverage phase of Part D—which beneficiaries reach after spending roughly $3,000 out of pocket, Purvis says—will drop from 5% coinsurance to zero. Then, in 2025, out-of-pocket spending on medications will be capped at $2,000 annually, indexed for inflation going forward.
Beyond these measures, beneficiaries can take advantage of Medicare's annual open enrollment period to re-evaluate their drug coverage and make sure it's still the best option. From Oct. 15 through Dec. 7, beneficiaries can switch Part D plans, Medicare Advantage plans, or switch from Medicare Advantage to original Medicare or vice versa. Any changes made to coverage during this period will take effect Jan. 1, 2024.
Drug plans sometimes make changes to which drugs they cover, so if your plan no longer pays for your medication—or has moved it to a more expensive coverage tier—then it may make sense to find a different plan. 

This article is licensed through AdvisorStream.